Hello Fresh Australia
sent us a box to test out.  I've never used Hello Fresh, known anyone that has, or had a chance to experience their food… well that was until now.
We were excited to give it a go and see if all the hype and advertisements lived up to reality. 
Spoiler alert:
Hello Fresh is beyond amazing and more!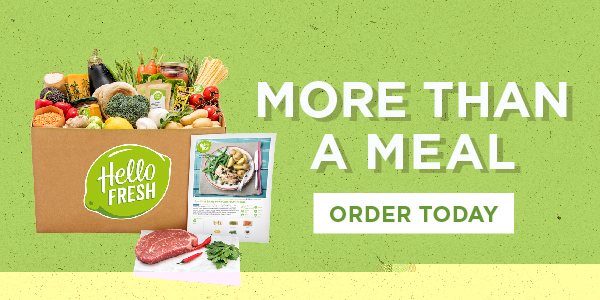 Due to Father's Day, we have been making some fabulous creations all from the help of the Hello Fresh box.
I would highly recommend getting a Hello Fresh Box to make dad an amazing, healthy and yummy meal.
It has made me not wonder what will I cook for dinner tonight… as it is already sorted.
The box came with everything that you would need to cook any of the meals that are listed on the recipe cards.
Some of the meals that we have had are:
Caribbean Chicken & Coconut Rice
Nonna's Beef Taco's
Lamb & Spinach Shepherd's Pie
Chicken & Bacon Pesto Pasta
You can also get inspired and get recipes via the Hello Fresh App, available at the App Store and on Google Play.
I'm a busy mum to three kids, hubby and always racing here and there. Making mealtimes easier is wonderful.
What have I loved about Hello Fresh?
Fresh ingredients
Easy to follow recipe cards
Food packs are in brown paper bags that have matching colours to the recipe cards. The bags fit neatly in the fridge and
Nearly 100% recyclable packaging (love the fact that Hello Fresh is focused on looking after the environment)
I've been super impressed with the quality of Hello Fresh's food and how simple it is to create gourmet meals for the family, that I have signed up as an affiliate.
Below are the affiliate links for Hello Fresh. I know not everyone is in Australia so I've got links to the USA, UK and Canada to help you out.
A HUGE thank you to Hello Fresh for sending us a lovely box of yummy meals to test out. We loved it and will be getting another box soon.
Sign up for my newsletter
Stay current with all the things that are happening on Mummy to Twins Plus One. Don't miss a thing by signing up for my newsletter. This newsletter will list all giveaways and fabulous things that are happening.